ABC cooperation with engineering companies, compressors are customized according to the project requirements, delivering complete units: compressor and electric cabinet on skid or bare compressors to be packaged by the engineering company responsible for the turn-key system .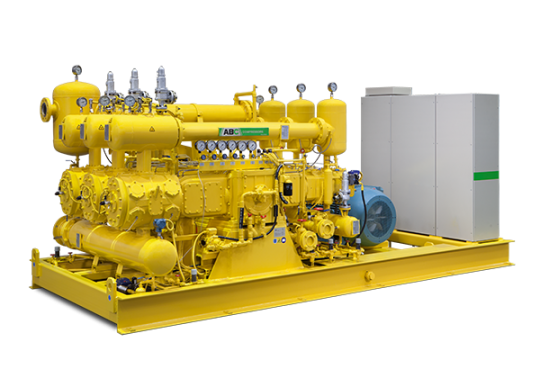 Efficient design
Design flexibity: colours / size / instrumentation.
Regulation
0-50-100% STEP REGULATION provides half of the nominal flow.
VARIABLE SPEED DRIVE, VSD provides continuous flow adjustment.
Operation with the variable speed drive has a double advantage.
Modular design
100% intergeable parts.
R&D
Compressor sets specifically developed for smaller flows installations, producing up to 600 kg/h.
2 stages piston doble effect horizontal
Technical
characteristics
---
MODEL
FLOW
ENGINE
CYLINDERS
STAGES
DESIGN
DIMENSIONS
kg/h
kW
CW
mm
m²
170
170
19
25
220/120
2
V-type
1,09x2,17
200
200
22
30
220/120
2
V-type
1,09x2,17
300
300
37
50
220x2/120x2
2
V-type
1,09x2,17
400
400
45
60
220x2/120x2
2
V-type
1,09x2,17
500
500
45
60
245x2/170/120
3
V-type
1,09x2,17
600
600
55
75
245x2/170/120
3
V-type
1,09x2,17
900
900
75
100
320/160
2
Boxer
1,35x3,90
1000
1.000
90
125
320/160
2
Boxer
1,35x3,90
1300
1.300
110
150
320/160
2
Boxer
1,35x3,90
1600
1.600
132
180
320x2/160x2
2
Boxer
1,90x3,94
2000
2.000
160
220
320x2/160x2
2
Boxer
1,90x3,94
2400
2.400
200
270
320x2/160x2
2
Boxer
1,90x3,94
2600
2.600
250
340
320x2/160x2
2
Boxer
1,90x3,94
3000
3.000
250
340
320x3/160x3
2
Boxer
2,28x4,50
3400
3.400
280
380
320x3/160x3
2
Boxer
2,28x4,50
3800
3.800
315
425
320x3/160x3
2
Boxer
2,28x4,50
4000
4.000
355
480
320x3/160x3
2
Boxer
2,28x4,50
Co2 recovery:
New installation of four ECOO range CO₂ compressor in France in order to recover carbon dioxide …
See more
CERTIFICATIONS